PREVIOUS ENTRIES:
INTRODUCTION
One month update: Jan. 31st, 2009
Sat. 1.31.09
MEASUREMENTS AND PICTURES!!
The first round was jan. 4th, so this is a few days less than one month.
Weight= 143.7; down from 146.7óexcellent! Like I said, I think I was definitely bloated that first day, but that is life.
-29 1/4 inches at smallest in midsection; down from 30 last month-great!
-31.5 inches at navel; down from 32.5 last month-good too!
-the skin fold thickness at midsection was not down however-still at 27mm. That is my challenge.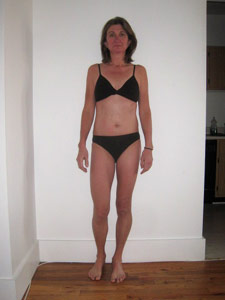 I think the front picture looks better too! Donít really see a difference in the side or rear view though.
Plan: hit the core/ab exercises at least as hard as I have started; challenging weight to get some muscle hypertrophy. Keep the eating clean, and keep the weight workouts up as well as the cardio. I am probably adding a bit of muscle weight; but again, that is ok. I want my midsection to be learn and what the scale says is ok. I am happy with the smaller girth of my legs due to less muscle, but want more muscle up top. That is why I am doing more push ups, plus the weight workouts in the gym.
-ate a few bites of the gilled salmon
-1 grapefruit (am really liking that so much lately!)
-1/2 cup veggies and cheese casserole-finally finished it!
-went to a local bar where I used to be a regular-Scott and I met 4 others.
-between 3 of us, we shared nachos (cheese and jalapenos)
-fried calamari with hot sauce
-I had 2 beers, 1 dark and stormy drink
-came home and had 2 glasses of wine
No exercise-just 20 push ups (want to be better at them)
Fri. 1.30.09
-one hard boiled egg white
Bought some stuff at Fairway on the way to first client;
-ate a few bites of grilled salmon
-handful of raspberries
-tea with 2 bags
-went to the gym at noon and after that I ate a few more bites of the salmon
-worked at home on workshop stuff until about 8pm and then ate the rest of the veggie/cheese casserole with a small salad.
-1 veggie burger with melted cheese
-then ate the rest of the potato chips; probably 1 serving
-2 glasses proseco
-2 glasses wine
My legs felt really tired, but was determined to go to the gym; figured I would do a yoga class. I got there too late, so I did a different group class called ďcardio junkieĒ; plyometric/cardio exercises with some strength all in simple moves; quite challenging! It was only 30 minutes, but felt like enough. I did 3 sets of different core exercises before the class:
-standing cable rotations with enough weight to be challenging at 12-15 reps
-chops/cable; same challenging weight
-kneeling ab crunches with cable; same weight
-one machine where you stand and pull a bar up with legs pretty straight; tough
After the class I did 2 sets of cable rows with challenging wt. at 10 reps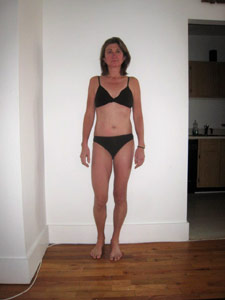 Thur. 1.29.09
Where did jan. go??? I hate that when people say that, e.g. where the heck were you all of those precious minutes each day? I am feeling pressure on myself to be better with my habits as my first month into this is coming to an end.
Yogurt/granola parfait from Starbucks
Medium tea with 2 bags
1 hard boiled egg with small bit of yolk
I was wishing I had taken the salmon jerkie with me as I was so hungry all day!
Small soup; roasted tomato and eggplant (really low cal!)
Med. Size handful mixed nuts
Half of one apple (made my client eat the other half sliced into wedges)
Another small soup: shrimp and carrot/clear broth
Met Scott at a place in the neighborhood
-shared garlic shrimp-about 4 shrimp each
-roasted vegetable panini
-2 slices bread
1 martini
2 glasses of wine
Walked at least 4 miles today in between clients
Went to the gym in the morning when a client cancelled late;
-did core exercises
-leg lowering while holding on with arms and in crunch position; about 30 reps and just holding in 3 sets of 10
-3 sets of med ball rotation; 8lb ball; 20 reps each time
Side planks; 1 minute each side
-20 reverse crunches
Used the foam roller to do some self myofascial release on my right side upper mid back/shoulder blades
Went to the gym at the end of the day but it was tough
-50 min. elliptical at 10 cal/min.
Wed. 1.28.09
Starbucks oatmeal with nuts
Tea with 2 bags
One hard boiled egg white with small bite of yolk
Small handful of nuts
Small soup; shrimp and veggies
1 apple
1 beer meeting Scott in the city after work
Huge amount of veggie/cheese casserole that Scott made last week and froze half.
Plus green salad
2 glasses of wine
30 minutes cardio
20 minutes weights; rows, horizontal rows, overhead presses: 3-4 sets each exercise, with weight enough to be challenging at about 8-10 reps; so 35-40lb. for the rows, 25 for the horizontal rows; 15 for overhead presses
Tue. 1.27.09
I was craving a sandwich; egg whites, cheese on toast-delicious!!
-a handful of nuts
-small soup; lentils and veggies (thinking about getting more protein)
-one grapefruit
-huge (huge!) salad with mixed greens, veggies, (at least 4-5 cups total volume) veggie burger with cheese
-2 glasses wine
At the gym;
-40 min. elliptical
-20 min. on treadmill; walking at 3.1mph, 11% incline, then every 2 minutes, did 1 minute running at 5mph at same incline
-3 sets of crunches on BOSU with 25 lb wt. Got to start getting to those abs more!
Mon. 1.26.09
I felt so hungry all day, but didnít want to eat a lot because sometimes I feel that even though the scale says good stuff, it catches up to me the next day or 2. I was 143.6 in the morning which is great.
-oatmeal and mixed nuts
-tea with 2 bags
-a little later I had 2 hard boiled egg whites with a bite of yolk
- 2 small soups (it was so good!); crab chowder with a clear broth
-1 apple
-about 10 mixed nuts
-I met Scott after he got back from teaching; he had a tough schedule the last month so we went out to a place in the neighborhood for happy hour. We shared a few tapas-like plates. I had:
-1 broiled scallop
-1 tiny crab cake -----really tiny!
-8 pieces crispy tofu with a dipping sauce probably really high in salt
-2 glasses wine
-1/2 cup peas and corn when I got home
I was packed with clients, so thought I would go to the gym after that, but then started feeling tired from the skiing and the weekend. I decided to another of my park workouts when I donít have much time
-total of 100 step ups onto the park bench; did them quickly so there is almost a little jump as you change feet; did 5 sets of 20
-did 10 push ups onto bench in between each set for total of 50
-30 reps off the end of the bench for abs-where I just lean back and then move legs up and down/out and in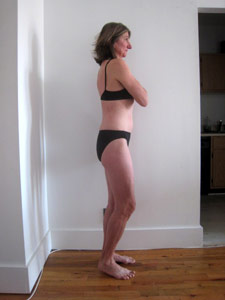 Sun. 1.25.09
Scott and I got up really early so we could get home for him to get some work done before teaching on mon.
-had half small bag of corn nuts on the way home. We couldnít find anything attractive to eat on the way home so we figured we would wait-I had one tea with 2 bags, and a diet coke.
-2 of those tiny snack size butterfingers
-got home and had some fruit but then started working and got caught up in that. I went to the grocery store to get lots of veggies to cut up for salad this week-need to get back on the good eating!
-bought some great rye bread and made 3 grilled cheese/veggie sandwiches that we ate in halves. I had a total of 3 halves (1.5 sandwiches)
-sharp cheddar, and American cheese
-onions, tomatoes, green peppers on the sandwich
-raw peppers and cucumbers, potato chips on the side
-3 glasses wine
Sat. 1.24.09
Egg and cheese sandwich before skiing.
Bowl of clam chowder soup, plus 2 beers for lunch
1 beer after finishing skiing
Back at the house, had several handfuls of mixed nuts, plus 2 glasses of wine.
Ate about 10 slices of cheese, with crackers and hot peppers as everyone was coming back to the house after skiing.
Went to dinner, had small serving onion rings, and lobster mac and cheese. There wasnít much lobster in there though!
2 beers with dinner
At the house while we were waiting for everyone to get done and showered, I started asking people about the proposed commitments we spoke about the night before. My neice has unbelievable muscle (on the blog) neiceís husband C. said he would be at least 10 lbs. lighter by then, saying he needs to lose at total of 25 lbs. Scott my boyfriend says he will be down 12 lbs. (1 lb. per week until the bike ride). J. said she would be down about 10 lbs. as well----great goals!! My brother in lawís good friend M. asked me about his push up form. I think he just wanted us to watch him doing them! He is a sweetheart and a favorite of my sisterís girlfriends. So D. asked me to tell him I had to evaluate the form with his shirt off, he obliged-! He said he could do 50 in a row, and he sure did-we cheered him on for the last 6 but that was great! D. said she does a plank face down on her forearms for 1.5 min. every morning. I told here that was great and that she should also add a side plank to get all of the core muscles.
J. was so tight/tense from skiing she kept going on about how she was all knotted up. So I finally got up (we were all laying around on the couches and the floor watching Rocky movies), and did some myofascial release on her quads with my arms---then 4 others in the group said they wanted to try it----so funny!!
Killington is harder than the other place we went skiing each year, so I was definitely feeling it at the end of the day, besides being really cold!
After dinner, a few of us did not go to the other bar to listen to music, so we went back to the house. I had one more glass of wine, plus 4 tiny snack sizes of snickers and butter fingers.
Fri. 1.23.09
Weight was 143.4!!! That is the least I have weighed since the 8th grade (I was 150 forever!)
We were going to Vermont for our annual family ski trip. Ate a flat everything bagel with cream cheese (the flat bagels look sort of like a bialy, or a bagel with the insides pulled out). I havenít had one for awhile and it was delicious!
-I knew we were going to eat when we got there so tried to not eat too much before. Had a few handfuls of popcorn-air popped on the way up.
-got to Killington where my sister rented a house.
-Ate 2 slices of pizza
-several handfuls of potato chips with onion dip.
-a few pieces of veggies with onion dip
-several glasses of wine (maybe a total of 5?)
-one half shot of Jamisonís
Legs felt tired from the workout I did in central park the other day.
-did 4 sets of assisted chin ups while waiting for client: 6 reps each
My sisterís friends and my family gave me some good feedback about my program<
-my sister said I donít eat much. She is a bit smaller than me by build; 11 months older; she doesnít eat much dinner at all though, so I think at the end of the day we are close, but the last few weeks I have definitely eaten less to get off to a good start with weight loss.
-my nephew says he doesnít like it when he can see girlsí abs-! Oh well! He is 29, a real hot guy, a sweetheart.
-J. (my sisterís good friend) told me to cut out all beer and thinks I can get to my goal in one month-!
This conversation led to other comments, admissions, questions about fitness efforts.
-my sister has this great group of girl friends and they do lots of fun stuff together, and many times she gets her family in on it, including me and my boyfriend Scott. So he and I committed to joining them in the NY city 5 borough bike tour, held each year in May. I did it once many years ago and it was such a schlep, not really cycling and took too long. Well these guys have an efficient plan to get in the front, get done early and have a great party, so Scott and I committed to going this year. So that spurred on some statements concerning goals that some people would reach by that timeÖbut we finalized on sat.
Thur. 1.22.09
Oatmeal and 2 tea bags in one cup again
Mixed fruit cup from deli
I was starving: bought mixed nuts and had one handful
One little chocolate thing: the hazelnut one (canít remember the name!)
One excellent soup from Zabarís; fish soup!
The veggie/cheese casserole from yesterday; plus tuna with a little mayo-all on a huge salad of mixed greens/arugula
2 glasses wine
No official exercise/ walked about 1 mile
Going skiing tomorrow!
Wed. 1.21.09
My dadís 82nd birthday; boy do I have good genetics from both of them! Hope I donít screw it up!!
Starbucks oatmeal/mixed nuts
2 tea bags in the tea
1 apple
1 med soup: tomato crab bisque
One handful mixed nuts
Scott made this awesome casserole: tons of veggies and cheese; just like mac and cheese without the mac!
1 glass wine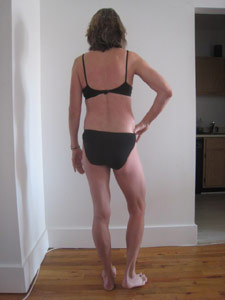 Didnít have a lot of time between clients again and was tired from the long day yesterday, but did some good stuff:
-45 sec. side planks while waiting for client; as well as one set of crunches on stability ball with 15lb. dumbbell-25 reps
-in central park, did total of 100 step ups onto park bench on each leg, with total 40 push ups in between sets-one small set of side lunges
-one set of 10 jump lunges
-this is all with a 20 pound back pack on
-one set of side waist bends with band on the bench
-it was cold and beautiful out!
Tue. 1.20.09
Election day and we went to DC!!!
I made 3 sandwiches (cheese, lettuce, onion, pepper, mayo) and wrapped the halves separately.
Ate one half at 7:30 am
second half at noon
third and fourth on the way back at 4, 4:30
3-4 servings potato chips
2 beers
2 glasses wine after the inauguration
1 glass wine when we got home

walked for about 3 hours trying to get close to the mall to see the evewalked for about 3 hours trying to get close to the mall to see the event, and then back to the train station.
Mon. 1.19.09
yogurt parfait from Starbucks
small vegetable soup
2 slices pizza
3 glasses wine

did 5 personal training sessions plus taught a 3 hour workshop. No time during the day to wkt. and didn't feel like getting up before my 7:30am client to exercise. I walked thru central park form the upper west to the upper east side, and did about 10 min. of walking lunges on the way, carrying my backpack.
Sun. 1.18.09
Got up late-tired from teaching!
Ate a few spoonfuls of lentils before we left for my fatherís 82nd birthday celebration.
-1 shot cold jaegermeister (he wanted me to drink 2 but I didnít!)
-pan seared black fish; a little pasta and mashed potatoes
-3 glasses wine
-1 beer with brother when we got back home
-1 slice pizza (we do half slices at a time and that really helps in not over eating)
Sat. 1.17.09
On the scale the other day I was 143.6-very good! Feel good but got to keep going. I will put up pictures this week!
Flat bagel with tuna, cheese, lettuce, tomato, onion, cucumbers, mayo; chips
-I ate half of this in the morning, then the other half during the lunch break of my workshop
1 glass wine on train home
1 small piece of that salmon jerky I started the other day
3 beers with brother and Scott when I got home
1/3 spinach leftover roll

45 minutes on elliptical in hotel gym
Fri. 1.16.09
Went to Boston on Amtrak to teach workshops fri. and sat. Got a scrambled egg white/lettuce sandwich (they forgot the cheese!)
1 tea
1 apple
Small piece of smoked salmon jerky (first time I tried it-not bad!)
3 falafel balls
Big bowl of clam chowder
2 pieces salmon jerky
3 glasses wine
Fell asleep early

No exercise-teaching all day wiped me out!
Thur. 1.15.09
Oatmeal with mixed nuts
2 teas
Medium soup: roasted corn/shrimp chowder
1 apple
2 beers with friends on the way home
Ĺ spinach roll
Big salad/mostly mixed greens, some red pepper, cucumber, tiny bit of light ranch dressing/salsa
2 glasses wine

Went to the gym but felt tired. There was a Pilates class starting so I went in. I havenít done that in a long time and it was good!
Wed. 1.14.09
starbucks oatmeal with mixed nuts (that is so good when its as cold as it has been!)
2 teas
handful mixed nuts
we were planning to have dinner with friends so didn't want to eat lunch
1 beer
great dinner: shared beet salad
-seared filet of sole
-good amount of garlic mashed potatoes
-small amt. spinach, snap peas
-shared one bottle of wine
-one more glass of wine for dessert

wkt/activity
crossed central park once
at gym: 60 minutes cardio
Tue. 1.13.09
Starbucks yogurt parfait
2 teas
Medium soup from Hale & Hearty: sweet crab chowder
A small amt. of mixed nuts
1 medium apple
Half cup leftover sautťed spinach
1 grapefruit
1 beer
1 quesadilla: big tortilla with stir fried tofu, a small amt. cheese, lots of greens, a few red peppers, carrots, onions
A small handful of chips
2 glasses wine

Activity/exercise
Walked through central park twice; total about 2; miles
At gym: several circuits
Jump squats/planks but legs were tired
Assisted chin ups on smith bar
Push ups
Standing cable core rotations
Repeat
Jump rope: 1 minute fast; 45 sec. alternating footwork
Lateral raises
Shoulder presses
Seated cable row
Repeat
Jump rope: double jumps every 5-8 singe jumps; 5 times
Dead lifts
Leg lowering
Bicycle crunches with straight legs up and down
Repeat
On stability ball: 1 set pikes (hard!)
One set rollouts
Mon. 1.12.09
Mondays are busy days with personal training; did 5.5 hours.
Starbucks oatmeal with mixed nuts
2 teas
Small lobster/crab bisque
1 beer
Huge salad: mixed greens; veggies, veggie burger with melted cheese (been doing that a lot lately!); leftover spinach from Sunday.
3 glasses of wine (not so good!)
Workout: went to the gym; 30 minutes of stepmill, 30 min. elliptical; at least 10 cal. per min.
Sun. 1.11.09
Didnít eat until the afternoon because we were going to a bar to watch football. They have excellent popcorn, so had about 5 handfuls of that, as well as 3 beers during the game. 3 glasses of wine at home making and eating dinner: sautťed spinach with onion and garlic; made a quesadilla with that and a veggie burger with melted cheese, lots of greens and veggies. A little bit of light ranch dressing and salsa; handful of potato chips.
No exercise; just walked a bit
Sat. 1.10.09
The first weekend on this program and this past week I think I did really well. I did more cardio than I had been, and ate really well. I had less to drink than normal too. I think I need to get more protein. I like to eat light during the day so I can have a big dinner at home with Scott. Thinking that when its not so cold, I could get something besides soup during the day. I feel leaner than when I started. The weight on the scale is 144-145. Getting period next week so that adds a little bloat, so I should show well on the scale after that. Have not had anything sweet/dessert- like since last sat. so that is really good.
Ate several pieces of leftover fish-probably about one full serving total.
Excellent thin crust pizza at Lucaliís-a great place in the neighborhood. Had 5 pieces, which is probably the equivalent of 3 regular slices, as this stuff is super thin crust.
-3 glasses of wine with the pizza.
-after that we went to a bar and I had 3 beers.
I went for a long run in the morning; 1 ľ hours. It was great-only doing about 12min. miles but love the long slow distance.
1.9.09
Starbucks oatmeal with mixed nuts
Handful mixed nuts
1 beer
Half Cajun shrimp wrap: shrimp, lettuce, tomato, onions, peppers, some kind of sauce
3 handfuls movie popcorn/no butter
1 beer
Other half of shrimp wrap
1 serving chips
1 glass wine

Exercise
Cardio: 30 min. stepmill
30 min. elliptical
30 min. bike
Total 600 calories
1.8.09
Starbucks oatmeal with mixed nuts; total 250 cal.
2 cups tea
Handful mixed nuts
Salmon corn chowder-small and delicious! Estimating 250-300 cal.
1 grapefruit-about 100 calories
Huge blackfish quesadilla: same tortilla wrap as yesterday (220 cal): cheese, greens, onions, peppers, a tiny bit of light ranch dressing, salsa; total about 800+ calories Handful nacho cheese chips; about 150 calories
1 beer; 120 calories
2 glasses wine; 150 cal. (glasses are less than ďserving sizeĒ)

Exercise
Felt tired but wanted to do some strength:
3 sets of: side, rotation, curtsey lunges-15lb. 8 reps each
3 sets dumbbells rows: 25 lbs; 8-12 reps to failure
3 sets lateral raises/reverse flys; 10lb. 10-12 reps to failure
2 sets cable kneeling crunches; 15 reps challenging
1 set crunches on stability ball with 10lb medicine ball
3 sets leg lowering holding on to bar
Oblique crunches; 1 set -20 reps
2 sets bicycle crunches-20 reps
1.7.09
Starbucks fruit and yogurt parfait
2 cups tea
1 apple
1 med. Cup soup; seafood chowder with no-cream broth
Tuna/veggie quesadilla; ďcarb balanceĒ tortilla with tons of fiber; tuna (little mayo), onions, pepper, corn, salsa, greens, cheese
2 handfuls potato chips
2 beers
2 glasses prosceco

Wkt
Treadmill: alternated walking @ 12% grade, 3.0 mph with running @ same incline, but 5.0-5.2 mph: walk 2 min./run 1 min. for total 20 min., then walk 10, total 30 min.
10 leg lowering exercises
10 scissors with straight legs
25 bicycle crunches
1.6.09
Still feel bloated
Starbucks oatmeal with mixed nuts
2 black teas
1 apple
Handful blueberries
1 cup varied roasted veggies
2 huge bowls of soup (same as yesterday)
Huge salad with veggie burger and cheese
2 glasses wine

Exercise/activity
Strength/power and cardio
8 Negative only chin ups
8 jump lunges on 14 inch box
Dumbbell rows with 25lb/10-12 reps
Lateral raises 10lb/10
Reverse flys 10lb/10
Repeat everything except the negative only chin ups
Elliptical 30 min. 10 cal/min.
Core:
Negative only tricep push ups-6
25 bicycle crunches
20 leg lowering