Update: March 9, 2009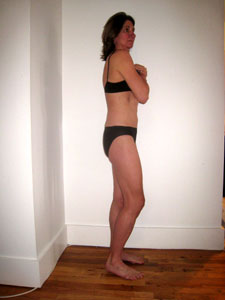 Sun. 3.8.09
Measurements and pictures!!
I can definitely see that I am leaner (I hope you can too!!)
-at smallest part of midsection: 28 ¼, down from 29 ¼ !!! That is great.
-at navel, 30 ½ down from 31 ½ ---super!!!
-wt. is 140.8-holy crap. Down from 143.7 on jan. 31st. That day was less than one month from the beginning, and so this is closer to 5 weeks from the last measurements. I am really proud of myself!!!


Some thoughts relative to the month coming up---month #3 out of 6. I was thinking this week that I need to change my wkts. and include the boxing, and the Pilates classes because they get more core so well. I also am going to drink less wine, thinking when at home I could have less.
I ate more egg whites the last 2-3 weeks. Also ate some more bread which felt good. I have GOT to stay away from the cauliflower/bean mixture!


-ate one hard boiled egg white, after I cooked a dozen for the week.
-spent a lot of time just chilling out and napping on the couch, so didn't eat much. We went for a walk and then stopped for a beer and ordered jalapeno poppers huge mistake! They were not that good, so I ate 2 and Scott ate 4-thankfully!
-came home and made a delicious tuna boat!
-one loaf Italian bread, cut in half and all of the insides pulled out.
-we used one total side, and then ¾ of the other side
-3 small cans tuna
-roasted onions
-3-4 tablespoons mayo
-swiss and American cheese.
They are like tuna melts but in this form. So I ate 1/3 of the entire amt. and Scott had the rest. A lot of calories but didn't eat much else. Had 2 slices swiss cheese as we were cooking.
-we also bough sun chips (R. turned me on to them in San Diego last week. I never ate them as I figured they were not that good-boy was I wrong!). I only had a small handful though.
-big salad with arugula, cucumbers and red pepper; light ranch/salsa dressing.
No wkt. Scott and I took a walk down to Red Hook, and along the pier. Probably 2 miles.


Sat. 3.7.09
-on the way back from the gym I bought a big red grapefruit and ate that at 10:15am
-ate the leftover tuna/scallion/jalapeno/mayo-probably 2/3 of a cup, plus 1 hard boiled egg -10:45
-caesar salad with grilled calamari-half portion at about 3pm
-one beer
-one veggie burger with melted American cheese on top of a big arugula salad, with cucumber and red pepper; light ranch/salsa dressing
-3 glasses wine
Great story: I was walking around Manhattan for a few hours this afternoon; so nice not to be teaching and have no agenda for the day. In Soho, there was this little store front (just a window really), where these women were selling tiny cupcakes. There was a line, so that attracted my attention. The cupcakes were about the size of a quarter (I kid you not!), and stuffed with different things, so they were about ¾ of one inch tall. So I figured I would get 3 (the smallest amount you could buy)-for $3. Unbelievable huh? By the time I got to the window, and really looked at them and thought about whether I really wanted them for that price, I just walked away. How about that??!! See, I wasn't craving the chocolate at all, so I respected that and didn't get any.


Wkt.
-ran about 40 minutes on the way to the gym. I couldn't decide what to do-run, or do a yoga or boot camp class or some combination. What I did know was that I wanted to go into Manhattan because it was gorgeous and warm out!
-I was up early so figured I would run and make the Pilates class at 9am. The class was great. It is so cool how the rest of the day I "felt" my abs being pulled in and tight and it felt great!!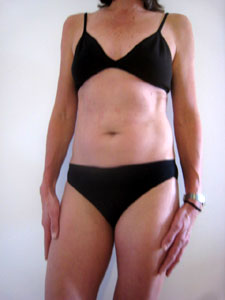 Fri. 3.6.09
-Starbucks oatmeal with nuts at 7am
-went to Whole Foods after workout and before my workshop and figured I would buy some food for later and for the day
-mixed greens, spinach with different veggies, pasta/salmon salad, tofu, beans, croutons, dressing. I thought it would last me the day but didn't. I ate some of it before my workshop, then the rest on break!
-ate a delicious tuna melt at night: skinny French bread, tuna, scallions, jalapenos, mayo with the inside of the bread pulled out. I ate ¼ of the bread.
-a few chips (much less than I used to eat! I even considered not buying them!)
-3 glasses wine


Wkt.
Went to the gym after one client and before my workshop.
-did 20 min. on elliptical
-55 min. on treadmill; incline walking


Thur. 3.5.09
-Yogurt parfait at Starbucks at 8:15am
-Green tea with 2 bags; have been doing the green tea the last few days
-small roasted garlic/tomato soup at 11am
-1 apple
-1 pear
-ate the leftover salmon with salad and bread
-ate another 2 servings of the low fat popcorn
-3 glasses of wine


Wkt
-did a kick boxing class; with no bags; it is so amazing. When I do those types of classes, my abs and entire midsection feel so tight/engaged for the next few days!
-walked a few miles between clients


Wed. 3.4.09
That cauliflower/bean casserole really screwed me up! Of course I didn't have to confirm that by eating it 3 times-!!!
I couldn't decide what I wanted; so got some yogurt/granola and fruit at one of those gourmet delis. It was too much yogurt.
-small minestrone soup
-bought some salmon to have for dinner
-pan seared the salmon and had a big salad with it. It was delicious!
-had a great piece of bread with it too.
-had some low fat popcorn-about 300 calories worth
-3 glasses wine


Wkt.
60 min. on stepmill at just under 600 cal/hour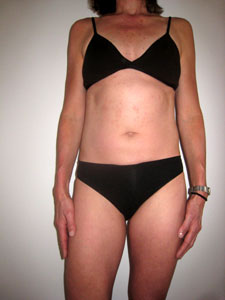 Tue. 3.3.09
-Oatmeal with mixed nuts
-tea with 2 bags
-I was early for my first client (I tell personal trainers that it is easy to be on time; you just have to plan to be early-!) So I went into Zaybar's on the upper west side and walked around. They have great food and I was thinking I was going from client to client and then working out, and then meeting a friend for a show so decided to buy grilled tofu and carrots/veggies.
-I ate that pretty quickly after that! Not a big serving; probably 8 pieces of tofu and veggies
-1 apple
-met a friend before the show
-2 beers
-jalapeno poppers (I love those things but most of the time they are disappointing, and these were not so hot)
-one glass of wine at home
-leftover cauliflower and bean casserole (don't ask me why I ate the rest of it but I did)


Wkt
60 min. cardio
-30 min. on elliptical and treadmill incline walking


Mon. 3.2.09
-back to the Starbucks oatmeal please! With mixed nuts.
-tea with 2 bags-at 8 am
-small barley veggie soup at 11
-small roasted veggie soup at 1pm
-I bought a payday bar at the airport leaving NY on Fri. I have been thinking; those nuts I munch on are so high in calories! A payday bar is only 250 calories and they are good! Ok, so I took a few bites of that throughout the day and finished it.
-1 apple 2pm
-we still had one of the casserole dishes with the cauliflower and the intense bean/onion/cheese mixture in the freezer from last week. I wasn't sure that it caused all the bloated/gas symptoms so I figured what the hell, I would try it again!!
-we had that with a salad/veggies and a taste test of 4 different veggie burgers.
-we tried Dr. Praegers, Morningstar, Boca burger, and Garden burger brands. The Praeger's was the most like a vegan burger (that was the name of it-!); so it tasted the most like a simple soy burger; the rest were more veggie like; less protein. I like the more veggie ones better. I ate a total of less than 2 burgers total.
-but guess what? Not long after eating, I felt that bloating and thickness in my guts, and this morning felt very soft and bloated. Too many of those white beans with the cauliflower? Maybe it's the beans with it; before we only made that dish with veggies and not beans.


Wkt.
I had a cancellation in the morning (which I sort of anticipated because of the snow storm and schools were closed) so I went to the gym.
-did a metabolic workout because I didn't have clothes change for pure sweat/cardio routine
-did circuits of 2 sets of alternating exercises
-lateral lunges with diagonal reaches
-dead lifts with rows
-squats and overhead presses
-curtsey lunges with lateral raises
-lots of core exercises
-seated rotations
-chops
-leg lowering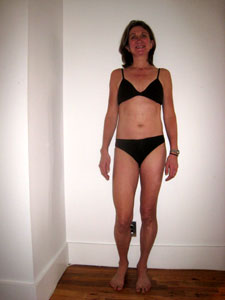 Sun. 3.1.09
Egg white omelet with cheese, onions, peppers, spinach.
-1 bite of a small pastry-literally one bite!—hotel breakfast buffet1
-went to the airport and had a tortilla soup from California Pizza-I think its really good.
-one small bag chips (uh oh, more chips)
-one beer
-at the Vegas airport I had a soft corn taco with beans and lettuce, quac-it was really small and quite good!
-I bought a tuna sandwich at this flatbread place; small flat bread with tuna, onion, horseradish sauce, lettuce, tomato, cucumber.
-with another small bag of chips-that was on the plane about 9pm eastern time. Ok, not so great with the chips.


I felt so small and skinny even! I think whatever was bothering my stomach was finally gone. Felt great!
Went for a run in the morning. My legs felt tired from the wkt. the day before. Did 45 min. around the bay in San Diego; so freaking nice there!


Sat. 2.28.09
Went to San Diego to film stuff content for ptonthenet.com's new certification program; they are such a great group for educating personal trainers!
-ate a cheese/veggie wrap at 9am with small bag of potato chips (have not done the chips for a long time!) Traveling can be challenging with eating and drinking and I haven't been gone for work for a long time in terms of air travel, so this will be interesting!
-tiny airplane bag of cashews at 11
-nothing until 7pm local time (10pm eastern time) -my stomach felt a little weird since all those beans the other night and the crappy creamy oatmeal the other morning…..!
-sun chips (I never really tried them thinking they were too cracker like-boy were they good!); I ate probably 1-2 servings.
-3 slices thin crust pizza -3 glasses wine


6 of us went to the beach in san diego and did a great workout with this new piece of equipment developed by Michol Dalcourt called VIPR; it was a metabolic wkt.; lots of squats and lunges with upper body moves, with this rubber tube-like device that gets your upper body and core really well. Did 2 rounds of 4 exercises; then one more round of different exercises. Then played a miserable game of touch football (never played before in my life!!) using Rugby rules; what a blast that was!


Fri. 2.27.09
A little bit of a delay in writing my stuff….taught a workshop on Fri. and saw one client before that.
-ate one apple before the client at 9am
-ate 2/3 of a sandwich: scrambled egg whites/cheese, whole wheat toast at 10am
-small soup at 1:30; corn chowder
-one pear after lunch
-one apple on the way home at 4:30
-handful of nuts with one beer at 5pm
-2 small pieces of cheese and one piece French bread 6pm
-2 beers
-veggie quesadilla: flour tortilla; cheese, greens, tons of onions, peppers, salsa
-one glass wine


Did a quick wkt. before my client
-there are a bunch of stairs; 3 groups of 15; ran up and down 6 times
-did my bench crunches; 3 sets of 10
-jogged with client 30 min. very slowly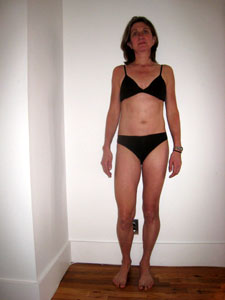 Thur. 2.26.09
Forgot to mention that yesterday I woke up and seriously thought I saw some ab definition!!! Also, at night my midsection is much less bloated than normal---great stuff!!1
-got oatmeal from a different spot; saw that it must have been milk or cream based, but got it anyway….yuk! Ate half of it
-sliced pineapple
-total 3 eggs/mostly white throughout the morning
-small soup; crab/asparagus bisque
-dinner was the casserole described yesterday; big serving
-big salad-same usual ingredients
-3 glasses wine
-ate a great piece of bread with a little butter; feel like I am too starch depleted with all the cardio…felt a little light headed yesterday.


Wkt.
-75 min. cardio at the gym
-20 min. each on elliptical, stepmill, treadmill walking at the inclines I increased to last time; plus an extra 15 min. elliptical.
-1 set 20 push ups
-1 set overhead presses
-before one client this afternoon, I did 30 reps of the bench crunches where you lift your body up from below the bench, with legs on the back part of the bench---getting stronger!


Wed. 2.25.09
-granola, yogurt parfait from Starbucks
-tea with 2 bags
-1 hard boiled egg/mostly white
-1/2 pint blackberries
-small minestrone soup-not that great
-2 more egg whites
-1 apple
Met Scott after work and had 2 beers at the Shark bar
-went home and made more of the cauliflower casseroles; this time we did white bean/spinach/onion/cheese
-ate a good portion of that
-big salad; greens/arugula; onions, peppers, cucumbers, light ranch with salsa


No wkt.
Legs still tired from the park step ups on Mon.!


Tue. 2.24.09
-Starbucks oatmeal with nuts (believe me-I was having cravings for grilled cheese sandwiches and all kinds of stuff!)
-tea with 2 bags (did I ever mention that I used to drink 2-3 cups of coffee per day, but stopped in june when I started taking homeopathic remedies? I will explain more about that another time!
-1 hard boiled egg white
-small soup –onion with cheese
-2 more hard boiled egg whites
-small handful mixed nuts
-1 apple
-1 small vegetable soup
-Scott and I went out to dinner
-2 pieces bread with olive oil
-grilled calamari with polenta
-grilled sea bass with spinach
-we skipped dessert-on a prix fix dinner!!! How about that??
-4 glasses wine


Wkt.
-the Equinox club that I first started working at has re-opened so I went there and did some cardio
-25 minutes on elliptical
-20 min on treadmill; incline walking as the last time
-walked through central park 3 times today between clients; one time was the long way. All together I walked about 2 ¼ hours.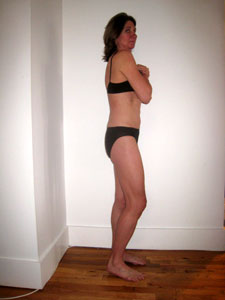 Mon. 2.23.09
-I was so hungry in the morning! I had a big serving of oatmeal with almonds and dried cranberries-about 3 times the size of the Starbucks serving.
-about one hour later I was still craving more food/carbs and had a flat bagel with cream cheese. The flat bagel is like a bagel with the insides pulled out and flattened out. There was less cream cheese than I would have liked (thank you though!) but it was damn good!
-the interesting thing is though, that I ate the bagel after the big amount of oatmeal, but didn't eat any nuts or soup at all after that. I think the calorie amount might be the same..?
-ate the casserole we had in the fridge; cauliflower, carrots/peas/cheese
-big salad; arugula, onion, pepper, light dressing with salsa
-3 glasses wine


I had some time in between workouts, so was debating whether to workout in the park or go to the gym. I wanted to get home to be with the cats we are sitting, so decided to do a park workout:
-onto a park bench: I did 20 minutes of step ups; not consecutive but only about 5 minute break to walk to another bench and the a little between one minute sets to each leg.
-did the bench crunches I have talked about before; plus leg lowering while lying on the picnic table. Total of 6 sets of the ab stuff.


Sun. 2.22.09
I knew I wanted to run in the morning; Scott was gone most of the early part of the day; so I wanted to balance out the extra calories I ate the 2 days before.
-we had the pizza that he ordered the night before, so I ate ½ slice around noon, after running.
-ate 4 more ½ slices throughout the day; one at about 3; then one at 6-ish, and then 2 more watching the Oscars. Total of 2/5 slices throughout the day-that's not so bad-!
-the Smart popcorn with the cheese-ate 2-3 servings of that
-2 glasses Proseco
-3 glasses wine


Wkt.
I am usually tired after teaching 2 days in a row, but wanted to run. My sister is gone so I planned to run and then stop by their house to pick up their cats that we are keeping at our apt. for the week. So, ran 50 min.-as soon as I started I felt that I wanted to run faster-great feeling! But then of course you feel like it's not that much fun; not so easy to sustain a faster pace! So I did most of the 50 min. faster than I have been running. It was threatening to rain and my parents wanted to leave town (they had been here for the week to take care of the cats). It is interesting when you feel good enough to work harder, but then it can get uncomfortable quickly! That felt good to do that though!


Sat. 2.21.09
Today was an 8 hour workshop-with 5 people; very intense.
Not a lot of stores open in the business section of downtown DC, but luckily found an Au Bon Pain and delicious oatmeal with dried cranberries and almonds. It was about 3 times as much as I get with the Starbucks size.
-apple
-lunch was a bowl of veggie soup. I don't like to eat much while I am teaching. I went right back to the train station after teaching and made some choices that were not optimal.
-tuna wrap from Au Bon Pain-very good
-small bag of chips
-2 cookies---once you get that taste, you are doomed, right?
-3 glasses of wine
-1/3 slice pizza when I got home


Wkt
Got up at 6 to wkt before the workshop.
Did 60 min. cardio; 30 on elliptical and 30 on treadmill. Did 12.5% incline and 3.5 mph so that was better than I had been doing.


Fri. 2.20.09
Went to DC to teach a workshop today and Sat.
-made food to take on the train
-big container of cut up veggie burger, cheese, arugula, cucumbers, onions, peppers, salsa—delicious!
-one apple
-lunch was miso-like soup with a few noodles
-I wasn't hungry after the workshop, but get really tired teaching all day-being "on" for 19 people for 5 hours. I walked around a little, got a bowl of clam chowder with a beer
-I didn't really feel like going to a restaurant, as I was tired and it was freezing out! So, I got a 6 inch tuna sub from Subway. I can't remember the last time I did that but boy what a treat!
-with cheese, lettuce, onion, tomato, hot peppers, regular peppers, cucumbers, a little mustard and mayo. And I got a bag of potato chips. OK! I have a question. I always considered those little bags of chips to be about 150 calories. Now I see there are 210---! Was I not reading correctly, or were they lying?
-I stayed at Doubletree hotel and I knew they used to give out warm cookies, and they sure still did! I ate it…ugh-back to the old ways!!
-had a few glasses of wine


No wkt.


Thur. 2.19.09
-2 hard boiled egss/mostly white at home; no early clients again
-tea with 2 bags
-1 apple
-lunch was what I brought from home; same as yesterday but a bigger portion
-arugula
-1 veggie burger
-cauliflower, peas/carrots/cheese casserole
-a few almonds and cashews
-dinner was a veggie burger quesadilla
-tortilla
-cheese
-greens, onions, cucumbers
-salsa w/ light ranch dressing
-3 glasses wine


Wkt
-was going to go to the gym but someone cancelled so I did my workout in the park-also because it was pretty warm out
-at a park bench: 5 sets of:
-jump lunges; 10 each
-10-15 push ups
-with band: side waist bends or standing rotations-10
-crunches, lying on the bench with legs up on back of bench, really hard!-10


Wed. 2.18.09
-2 hard boiled eggs/mostly white at home; just a few clients because of vacation week
-a few almonds and cashews
-walking across the park I stopped and ate what I brought from home
-most of one veggie burger
-arugula
-cauliflower, peas and carrots/cheese casserole
-the whole thing was about the serving you would get on an airplane-maybe more, but not much.
-one apple
-one grapefruit
-went up to my sister's as my parents are staying here for the week; my mom is a great cook; she made fried chicken for my brother and Scott; I had:
-delicious potato/tomato soup; 3 bowls!
-creamed spinach-about 1 cup
-mashed potatoes-about 1 cup for sure; maybe more
-sauteed mushrooms-at least ½ cup
-2 glasses wine


Went to the JCC to meet my good friend P. He is a great trainer and took me through a few exercises:
-with the kettlebell; some full body stuff; some core stuff; and some upper body.
-we talked a lot but did some stability ball stuff; some planks and helped each other through some thought processes. That's what I miss from working in a gym; is to get together with others to challenge, and to think. I need to do that more often! Was going to work out more, but figured I would do it tomorrow.
I went home and did some workshop work.


Tue. 2.17.09
-2 hard boiled eggs/mostly white
-one apple waiting for Scott to get done so I could take him home.
-came home and had 2 tablespoons of the cauliflower casserole from last night. My goal was to go on a really long run and felt too hungry to start.
-one small piece of pepperjack cheese
-huge salad of arugula, cucumbers, light dressing (definitely 3+ cups worth)
-1/3 of veggie burger (made some for food tomorrow for something different)
-1/2 of spinach roll from House of Calzone (we haven't had our regular pizza in a long time!)
-big serving of the cauliflower/peas and carrots.
-3 glasses wine


Wkt. You know how you plan something and then you wake up and its not the perfect day for it-? I wanted to get closer to the 1.5 hours jogging and was planning for today to be the day. But! Last night I was thinking I wanted to stay up later as I didn't have an early client (school vacations), and Scott was having his procedure), so slept on the couch, then watched a bit of David Letterman (the goal), then went to bed and didn't feel well rested this morning-damn!
Anyway, I was trying to think of which route to take:
-the Red Hook one---about 50-70 min.
-the one under the highway to Brooklyn heights and then the park there-60-70 min.
-go up to Prospect Park –definitely more than one hour, but it just seems so hard because you feel so far away even when you are not…if that makes sense!
So, a few things happened:
-my bike that I ride most of the year has been sitting outside and the wheel got stolen (welcome to NY), plus it is so beat up thru standing outside over the years, that I knew I wanted to take it to the shop to get ready to ride.
-Scott needed some prescriptions filled and some eye drops after this event, so I bit the bullet, and went for a long run:
-started by going to look for where the local bike shop moved to a few weeks ago.
-went to Smith St. to drop off the prescriptions, and then went up to prospect park; ran along the path, enough to get to the 1.5 hour mark by the time I got back to the drug store----yippie!!!! I rock! I wasn't setting any speed records but I did it. Of course along the way I was thinking of possible excuses but just kept at it. It was terrific-a great adventure thru Brooklyn.


Mon. 2.16.09
-oatmeal and mixed nuts
-tea with 2 bags
-1 hard boiled egg/mostly white
-small handful mixed nuts
-small asparagus bisque soup (not good enough for the calories!)
-1 grapefruit
-Scott is having Lasik eye surgery tomorrow, so I planned on making some of the cauliflower dishes to eat and freeze, and whatever else he wanted.
-made 3 casserole dishes/pans: 1 with stir fried onions, garlic and red pepper; cheese; and the other 2 with peas and carrots/cheese
-I ate a big serving of the red pepper one
-leftover swordfish from Sat. still had one serving for sure
-big green salad; light dressing
-3 glasses wine


Wkt.
Weight was 141.7. When I was running on Sun., I stopped by Baked in Red Hook and got 3 chocolate cloud cookies; serious chocolate/dark chocolate. I brought 2 to my client who is a fiend, and put one in the freezer for me. When the scale hovers under 141 I get to eat a little of that--!! Its definitely easier to do that with food than with wine!
Legs are tired from running yesterday; used the stick to relax the muscles a bit. Walked a couple of miles; did 3 sets of leg lowering/holds-about 15 reps/15 sec. hold
-25 push ups; not all of them were full range of motion; then finished with 5 more on the knees


Sun. 2.15.09
Ate the rest of the crab cakes on salad the same as yesterday
We were going to the Intrepid with my parents and sister/husband and planned on going to lunch after that.
-starving! Had 1 bloody mary
-2 small slices bread with butter
-fried calamari-about 2 handfuls
-pan seared sea bass with rice, veggies
-shared mac and cheese side order
-3 glasses wine


Ran in the morning; 70 minutes on that great path around the Brooklyn waterfront. Felt great!


Sat. 2.14.09
weight 141.7-yippie!!
We were going to dinner at the Queen in Brooklyn with my parents, so we wanted to eat light before that
-1 small leftover crab cake on salad with cukes and red pepper
-at the restaurant:
-1 piece bread with tomato-garlic spread
-baked fish with veggies
-2 potato croquets
-5 of us shared 5 desserts; I had most of the cannolli, a few bites of cheesecake, chocolate cake.
-1 martini, 2 glasses of wine
-1 beer afterward with friends


No wkt.
We walked about 2 miles-- to the restaurant and back


Fri. 2.13.09
Weight is holding steady at 142-ish
-2 hard boiled eggs/mostly white
-tea with 2 bags
-1 apple
-small handful almonds/cashews
-4 pieces stir fried tofu
-Scott and I met in the afternoon and got the ingredients for our Valentine's day dinner at home. We wanted to make crab cakes.
-they were delicious!! Jumbo lump crab cakes with 1 egg white, spices, and just a tiny bit of flour; then pan fried in butter.
-I ate one big crab cake (plus extra pieces as they were getting done), with arugula salad, orange pepper, cucumbers, spicy light dressing.
-several glasses proseco and wine
-I bought 4 little chocolate cookies from this great place in the neighborhood; I ate 2, Scott had 1.
Its amazing to eat chocolate after not having anything sweet for about one month!!


Legs felt heavy; went to the gym for upper body and core exercises
-did 3 sets with a challenging weight of:
-chops and rotations with cable
-push ups; chest press machine
-lat pulldown, cable rows
-dumbbell overhead presses
-leg lowering and holding legs out in front right above the floor for 15-20 sec.
-one set of negative-only chin ups with 10 lbs. around waist


Thur. 2.12.09
I felt hungry!
We were going to meet and go to the Bitter End-a club in the city where musicians use it to showcase their stuff; our good friend works there as a bouncer, so it is a great way to see him early in the evening before it gets crowded. So of course I was thinking of how to eat with regards to not being starved at night, and thinking of having a few beers too.
-one hard boiled egg/mostly white after the wkt on the way to see clients
-yogurt parfait when I got to the city before first client
-tea with 2 bags
-1 apple
-big serving of cashews/almonds
-waiting for Scott before we went to the club
-one beer
-small (small!) serving of fried cheese (gotta coat that stomach!)
-2 beers at the club-ok! I had Bud Light-bud light! That shows you how serious I am with this effort. My beer enthusiast friends are cringing!
-came home around 9:30 and had some more of that wonderful cauliflower mixture from last night; we are loving that stuff!!


Wkt.
Worked out in the morning because clients rescheduled:
70 minutes on cardio: between treadmill incline walking, elliptical and stepmill.
Walked about 2 miles


Wed. 2.11.09
Scale about the same
-yogurt parfait from Starbucks
-tea with 2 bags
-taught the second half of the workshop I started yesterday
-got a salad to take with me: greens, tofu, veggies, croutons
-1 apple
-ate dish we made last week and froze part of:
-broiled mushrooms stuffed with tuna and crab, cheese
-the cauliflower, carrots, onions, cheese thing too
-2 glasses wine


Wkt.
Walked about 1.5-2 miles
Did some bench crunches in the park after the workshop on the way to the last client—they are tough! You lie on the bench with your legs up on the back part of the bench; your upper body goes down towards the ground and you come up doing crunches. I started with a few reps with the arms up overhead (harder), then did some with arms in front of body, then negative only: you use the bench to pull yourself up, then lower really slowly; total of 10 reps; 4 sets.


Tue. 2.10.09
142.3 on the scale-very good!
-one hard boiled egg;mostly white
-tea with 2 bags
-oatmeal with nuts
-taught a workshop so was thinking of what to bring;
-ate one apple
-about 8oz. sautéed spinach on break
-we made sautéed shrimp-ate about 15
-with broiled smashed cauliflower and carrots/onions with cheese-delicious!
-too much wine-4 glasses


Wkt.
Got up early as client couldn't meet; ran for 52 min. in the morning. I went down to Red Hook as I do many times; there is a huge IKEA that blocked a lot of cool stuff on the waterfront in addition to knocking down some old beautiful buildings, but at least they have these night access paths/walkways along the waterfront, so it is so nice to be there; the statue of Liberty is so close!
Did 25 push ups in the morning


Mon. 2.9.09
Was 143.1 on the scale; pretty good considering I feel bloated. Need to get closer to 140 and stay there!
-oatmeal with mixed nuts
-tea with 2 bags
-2 hard boiled eggs/mostly whites
-small new England clam chowder
-at least 3 quarts of water during the day
-one apple
-2 tiny pieces of cheese at a gourmet deli-samples
-a few cashews and almonds
-big salad with mixed greens; at least 3-4 cups worth; light dressing w/salsa
-1.5 slices pizza from last night
2 glasses wine


Busy with clients today. Walked at least 2-3 miles thru the day.
-jogged 30 min. with client-slow but it was her wkt!
-did 6 minutes walking lunges going thru central park


Sun. 2.8.09
-small amt. sautéed spinach that we used last night for the quesadillas.
-1 hard boiled egg white with a tiny amt. of yolk. I cooked one dozen for the week coming up, and one cracked so I ate it –perfectly cooked!!
-felt really tired and lazy, so just stayed around and caught up with office work. We had pizza last night; I ate 3 pieces; onions, garlic, hot peppers.
-3 glasses of wine throughout the day.


Legs felt very heavy, but wanted to run. Scale said 144.8-feel bloated-period coming up. Weight is fluctuating, but its got to be because I am trying to lose weight; so I am seeing my efforts with the change in numbers. The important thing is to keep with the program when I feel like this. You can't explain the fluctuations so you just keep with the plan and then when the weird variables subside, the scale looks good again!
-went running; total 65 minutes. It was quite warm today; really nice!


Sat. 2.7.09
Taught another all day workshop; very tiring!
-Ate half of sandwich: scrambled egg whites/cheese
-at lunch, I didn't want the other half sandwich; wanted soup, but wound up getting a container of tuna salad; probably a little bigger than an 8 oz. container size. I know there's mayo in there so it wasn't the best choice, but at least I didn't get the potato chips like I usually would have done--!!! (excuses, excuses)
-yeah, so then I walked to the bakery across the st. and got a delicious Florentine cookie: very thin-crunchy pastry like-chocolate with nuts-really good!
-went home after wkshop; we made spinach/cheese quesadillas. I had one.
-3 glasses wine.


I brought workout clothes with me thinking I might wkt. after, but felt tired. Legs get tired standing all day.


Fri. 2.6.09
Taught a workshop so saw one client before that.
-ate oatmeal with nuts
-tea with 2 bags
-lunch during workshop-medium new England clam chowder
-1 apple
-met Scott after teaching, shared grilled salmon skewer (I ate one small piece)
-we shared crab cake; small one
-one beer, one wine
-went to restaurant in the neighborhood; shared cauliflower/tomato/cheese appetizer
-shared appetizer broccoli rabe dish
-came home and had the other half of the falafel wrap from last night; added a bit of cheese; heated it up-yummie!

No wkt.


Thur. 2.5.09
Holy crap!!! I stepped on the scale this morning and saw 142.3!!!! (By the way, I step on the scale every day, and have been seeing 144.something the last 2 weeks) I haven't weighed that much (little!) since I was about 15!!!!!
-oatmeal with mixed nuts
-tea with 2 bags
-1 apple
-1 medium soup: asparagus leek
-1 apple
-half pint blackberries
-small salad; greens and one slice swiss cheese; low fat ranch w/salsa
-1 glass proseco
-met Scott at a neighborhood place; had crispy cauliflower, one glass wine
-half of a falafel wrap
-half of one pita with hummus
-1 glass wine


Wkt.
My arms are looking lean! I knew that would happen; arms and legs getting ripped and the fat in the middle hanging in until the last second!
-did metabolic set for about 20 min. 3 rounds of:
-burpies: jump squats, back into plank, push up onto bench; 5-6 reps
-jump lunges: 12 each side
-bicep curl; overhead press; 12-14 reps
-seated cable rows: 15-18 reps
-cable crunches
50 minutes cardio; on step mill; getting better-did mostly level 9


Wed. 2.4.09
-oatmeal with mixed nuts
-small roasted veggie soup (we were going to my sister's for dinner so didn't want to eat too much)
-1 grapefruit
-2 slices swiss cheese with a bit of mayo and greens; rolled up in the cheese
-small handful mixed nuts
-1 small martini
-3 crackers and cheese
-1 crab cake
-big serving grilled asparagus
-greens
-2 glasses wine


I was thinking I would go wkt. but was so tired I decided not to. Today is the end of the first month. I feel good, but a little de-motivated today; think I am just tired; didn't sleep well last night.


Tue. 2.3.09
-1 hard boiled egg/mostly white; morning client couldn't meet so I went to the gym in the morning
-after the wkt. I got a big salad with mixed greens, onions, black beans, tofu, beets, red peppers, mixed cheese and light dressing. Thought I would snack on it through the day but ate the whole thing immediately!
-another hard boiled egg/mostly white
-med. Handful mixed nuts
-stir fried shrimp made at home-had about 25 medium shrimp, sautéed with onions
-big serving smashed cauliflower/carrots with a little swiss and American cheese
-2 glasses wine


Wkt.
-45 min. cardio-stepmill and elliptical
-2 sets stability ball crunches with 25lb wt.
-1 set 25 push ups (20 on toes/5 on knees)
-dumbbell rows; 2 sets
-overhead presses; 2 sets


Mon. 2.2.09
-oatmeal without nuts
-tea with 2 bags
-med. handful mixed nuts
-small manhattan clam chowder soup
-small new England clam chowder soup
-met Scott after work and had 2 beers (bottles of Bud)
-Scott made mushroom stuffed tuna/crab/onion with melted cheese; ate a good serving
-big salad; mixed greens with light dressing
-2 glasses wine
People have asked about water; I get at least 2 quarts each day, especially Mon. thru Fri. Sat. and Sun. I am not that good but trying.


Wkt
-packed with clients again and legs are tired from running yesterday
-walked about 2 miles in between clients
-in central park before last client: did 3 sets of about 10-12 reps each time
-side waist bends with band on park bench
-standing rotations
-sitting on bench with upper body off bench-crunches (they are really hard!)


Sun. 2.1.09
Superbowl day! Still wasn't sure what we would do for the game.
-Scott made a cheese omelet-delicious! Mostly whites, a few yolks and American cheese; plus home fries.
-a few potato chips
-2 glasses proseco
-went to a bar in the neighborhood to watch the first half of the game…ate a few chips with salsa.
-2 beers at the bar
-came home and had 3 big bowls of fish soup: salmon and potatoes in a clear broth-really good!


Went for a long run. Timed a little of it at about 10:40 per mile which is better than I thought I was doing. Ran 1 hour and 15 min. around the red hook neighborhood; by the water, see the statue of Liberty, all around the huge Fairway store and IKEA. Then several laps around the track down there and back-felt heavy legs at first but really good throughout!